Celine put on a concert at the Today Show for over 5,000 fans (Al Roker said this was the biggest audience they have had so far this summer for the concert series. Good Job Celine) where she performed: Over The Rainbow, Because You Loved Me & a medley of her shits such as "A New Day..Has Come, I'm Alive and That's The Way It Is. She sure did not disappoint any of us! 🙂 To view the concert videos: 1 , 2, 3.
Celine rehearses for the Today Show Concert Series (Cute funny faces eh (; )
View all: Click Here
Celine performs for the Today Show
View all: Click Here
Celine leaves the Today Show
View all: Click Here
In case you forgot: Céline Dion is a diva with a wardrobe to match. The singer is heavy on the promo trail in New York City, hitting up plenty of major TV shows and serving up chic looks at every stop styled by Law Roach at every turn.
She wore a series of ensembles for her Today Show appearance, including this yellow ruffled blouse and fetching patterned skirt from Gucci.
To rehearse for the early morning performance, Dion turned out in a comfy Canadian tuxedo, which was pretty fitting.
Later, she changed into a disco ball-esque suit look, complete with silver sequined pants, a matching blazer, slouchy white T-shirt, and embroidered booties.
The night before, she wore a leathery black one-shouldered gown, striking a pose in Midtown.
---
Source: Click Here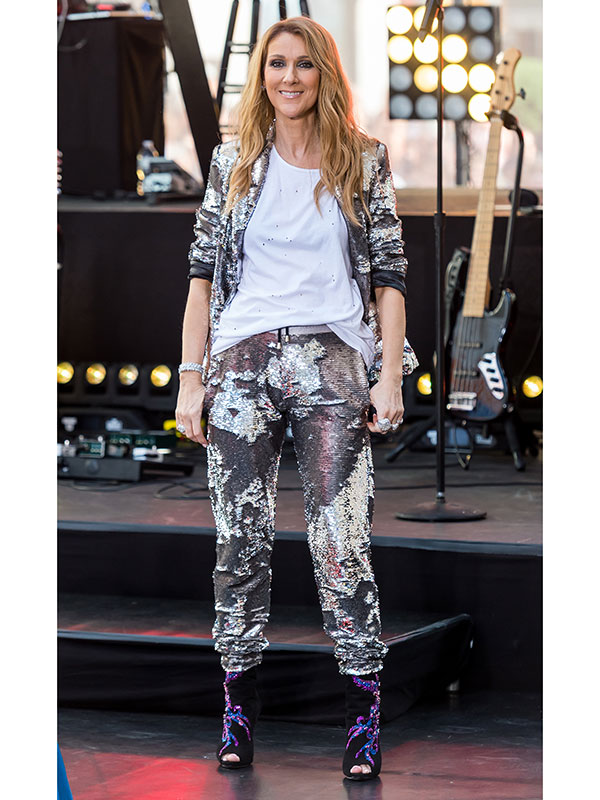 The style momentum isn't slowing down for Celine Dion! After stepping out with a new, fashion-forward look in Paris — a transformation she underwent with help Zendaya and Ariana Grande's stylist (and new America's Next Top Model judge) Law Roach — Dion is continuing her journey to becoming a full-on street-style star now that she's back stateside.

In less than 24 hours in N.Y.C., she wore a sparkly silver mini (by Mikael D), a colorful matching outfit in primary hues (by Versace), a floral dress (by Delpozo) and more dazzling looks, with Roach by her side; though he was originally just supposed to team with her for her Paris jaunt, they've decided to continue working together.

We caught up with Roach at the Today show this morning, where he styled her in a silver sequin suit, white tee and black Giuseppe Zanotti peep-toe booties for her live performance. "She likes everything," he tells PeopleStyle. "She'll wear anything. Like last night [on The Tonight Show Starring Jimmy Fallon], she wore this super-tight, super-short bodycon dress. She has no restrictions and nothing that she likes or dislikes more than anything else. She's fearless."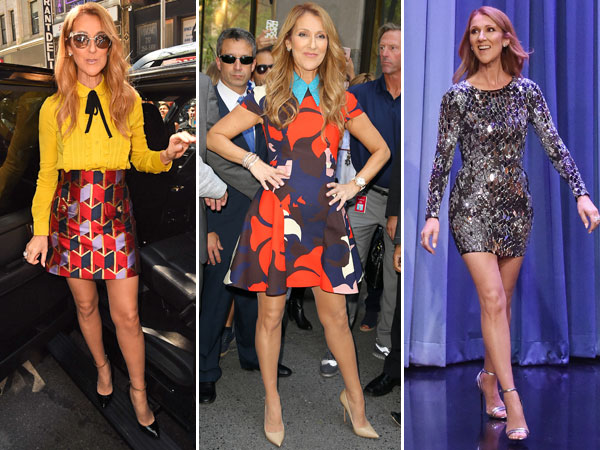 When she performs — as she did in a black gown on Fallon or her high-wattage ensemble on Today — Roach keeps the requirements of a performer in mind. "Working with artists, certain things just have to be," he says. "It can't be too tight, they have to be able to breathe, they have to be able to expand their ribcage when they sing. She's very animated when she sings and she needs to be free. So the performance looks are a bit more planned out for that reason."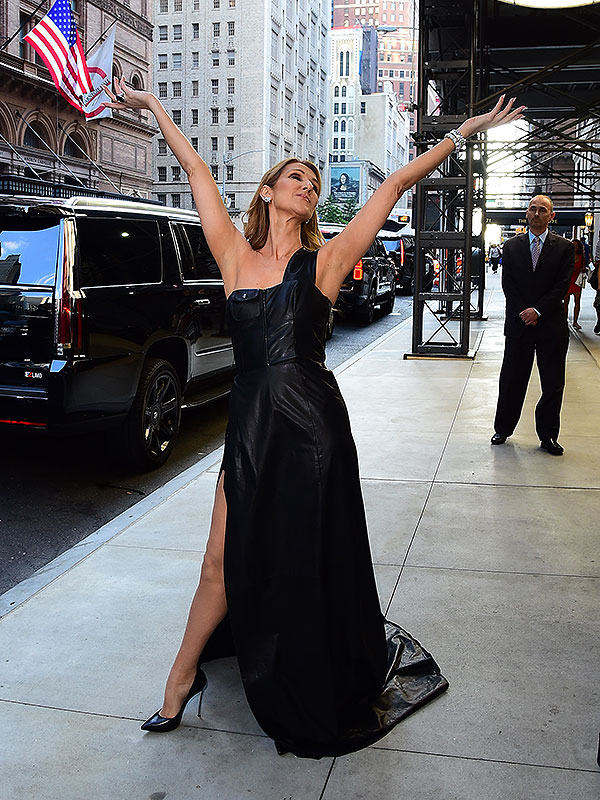 Dion clearly enjoyed her Today show sparkle, telling Entertainment Weekly, "My stylist gave me something very, very, very, subtle shiny — shine bright light a diamond," she says. "It's 6:00 [a.m.] even, and I'm in silver with bling bling bling bling blang blang blong. I was like, 'Are you sure?' I was like, 'I don't know!' So if they didn't see me out there, they will never see me." [This has to be read in her voice, so catch the audio clip below to listen to her chat about her look!'
---
Source: Click Here
Celine was the guest co-host on Kathie Lee Gifford's show she does with Hoda. They talked about how they both feel since losing their husbands and Celine opened up on how her twins Nelson and Eddy are doing and older Son Rene-Charles. She also co-hosts throughout the whole show with various of things. Check out over 100+ screencaptures I did below. Please credit me!
Please credit me on twitter @ celinedionorg if you post them anywhere!!!!
View all: Click Here
On July 22nd, 2016 Celine performed as part of the Today Show Concert series where she performed "Over The Rainbow" , "Because You Loved Me" and a medley of her other hits. I have added over 500+ screencaptures to the gallery.
ALSO…. If YOU post my captures anywhere please credit ME it doesn't take one sec to do screencaptures if you think I did it that easily I downloaded the video files and use a program to screencap etc…. I don't spend tireless hours from my personal life to not get credit!
View all: Click Here
I decided to make some HQ screencaptures for you guys since you guys seem to like them. Below I have uploaded screencaptures from Celine's interview with Jimmy Fallon and the game they played together on July 21st, 2016. Enjoy. Please Please if YOU repost my screencaptures credit me on twitter @ celinedionorg I do NOT tag them because I like sharing but people seem they don't like to credit.
View all: Click Here
Celine Dion and Kathie Lee Gifford have both endured tragedy in their lives in the past year.

And the two talented stars bonded over the death of their respective husbands during the 48-year-old Canadian singer's appearance on the Kathie Lee & Hoda Today Show on Friday.

Celine lost husband Rene Angelil to cancer in January as the 62-year-old host lost husband Frank Gifford to natural causes in August.

The My Heart Will Go On singer had an emotional moment as she talked about the father to her three children as she said: 'I have to tell you I feel very strong because our husband gave all of us wonderful luggage.

'I lost the man of my life but I cannot live thinking this way. I have to say "I found the best man in the world" like you did for yourself. And we were both extremely lucky and the luggage that we have will carry us for the rest of our lives.'

Throughout Celine's monologue, Kathie Lee looked visibly shaken as she nodded her head while tears flowed from her eyes.
The host of the show realized they may need to clean up after the emotional moment as she signaled to a production member to have tissues lowered down by saying: 'Jerry please!'

Celine was obviously mistaken as she looked toward the sky and said: 'Renee can you help her.'

When a silver box of tissues came down, the Power Of Love singer looked completely mystified as she began singing the words to Eric Clapton hit Tears In Heaven.
'You get the Kleenex from heaven, that's amazing,' Celine said.

Kathie Lee replied: 'You are a really strange person,' before they both took a swig of their wine.

This came just after she hit the stage for a mini concert for the Today Show as an impressive 5,000 fans lined the streets of the Big Apple just to see their idol.
She sported a shiny silver blazer and trousers combination over a white top and purple sequined open-toed booties as she captivated the crowd.

Her dirty blonde locks were worn down flowing over her shoulders as she showed off her evergreen looks with natural, complimentary make-up on her face.

During the performance she had the full attention of the crowd as she did her own hits Why Oh Why and That's The Way It Is as well as an emotional cover of Wizard Of Oz classic Somewhere Over The Rainbow.
It is an interesting time in Celine's life as the release date of her new album was announced by her management via social media on Monday.

The tweet said: 'Mark your calendars! The new album, #EncoreUnSoir, will be available on August 26th.'

It is the 48-year-old's first release since the death of her manager turned husband died of cancer at the age of 74 in January. It is also her 26th studio album in total and 14th in French.
---
Source:Click Here