The numbers are finally in for Celine's overseas tour and let's just say WOW get it girl! She currently takes the #1 and #2 spots on Billboard Boxscore with a total income of over 23 million. For the Paris Shows if you divide her total income by 9 she made a total of 2mil+ PER show that is pretty freaking amazing.
Greatest Hits Live Finale: 1980-2005" – The summer party culminates with a live two-hour finale featuring some of the most iconic and thrilling music artists of the 80s, 90s and 2000s performing their greatest hits. Special appearances include Celine Dion performing "My Heart Will Go On" from Montreal and a Whitney Houston tribute by Ariana Grande. Hosted by actor and comedian Arsenio Hall and country music star Kelsea Ballerini, "Greatest Hits" will broadcast LIVE from the Microsoft Theatre on THURSDAY, AUGUST 4 (9:00–11:00 p.m. EDT), on the ABC Television Network.

Additional artists and performances to be announced at a later date.

"Greatest Hits" is produced by AEG Ehrlich Ventures. Ken Ehrlich, James McKinlay and Raj Kapoor serve as executive producers, and Leon Knoles directs. David Wild is writer/producer.
Céline announces the release of Encore un Soir, available in stores August 26th and for pre-order today.  The title track and lead single, was composed by Jean-Jacques Goldman, marking a long-awaited reunion, 12 years in the making!  Céline and René's vision of a new collaboration with this legendary artist, came to fruition with "Encore un soir", and this tailor-made song is an instant-grat track for those who pre-order the album.

For the first time, Francis Cabrel and Serge Lama co-wrote a song for Céline. Jacques Veneruso, her most trusted ally in recent years has written and composed a new song as well.  Grand Corps Malade has once again offered his poetry to this new album. New partners have also been added to the family: Zaho, Florent Mothe and Mutine. As Quebec is always close to Céline's heart, she wanted to pay tribute to its rich musical repertoire by reinterpreting the classic Robert Charlebois song"Ordinaire".  Marc Dupré is also collaborating with Céline on this album and let's not forget Daniel Picard, who saw his song chosen from over 4,000 submissions following a contest launched on Céline's website. 

Encore un soir is available for pre-order now! 

smarturl.it/Encoreunsoir
Friday July 22nd, 2016 Celine will perform a big concert on the Today Show Plaza. It is a show that is not to be missed. This is first time back on the Plaza for the superstar in years.
Viewing is on a first-come, first-served basis on the TODAY plaza, located at 48th Street between Fifth and Sixth avenues in New York City.

To get the best spot, fans should try to arrive by 5 a.m. Generally, concerts happen rain or shine.
Celine Dion is getting ready to release a French-language album later this year, but she's already planning her next record after that.

Between wrapping her Summer Tour 2016 in August and returning to her Las Vegas residency in September, Dion tells EW she'll start looking at songs to include on her next English-language LP. That album will follow this year's upcoming Encore un soir and is expected to arrive some time in 2017.

Dion is keeping mum about her collaborators for now, but there is one she's willing to dish about: "Pink wrote me a song that I'm freaking out about," she says in the new issue of EW, on stands now. "You cannot be more excited than me, I'll tell you. I am thrilled not only because I am a fan, but because I know her personally and have met her a few times."

The admiration is mutual: "Celine possesses one of the most incredible voices that I have ever heard," Pink exclusively told EW in a statement. "She is like a magic light bulb, walking around emanating light into the world. When I wrote this song, there was such a simple need to it. I know everyone wants to hear Celine wail, I wanted to hear Celine's soul. She is just simply amazing, and getting to write a song for her is one of the biggest honors of my life."

Dion says Pink approached her about the song while she was dealing with the losses of her husband and long-time manager, René Angélil, and her older brother Daniel, who both died within a few days of each other in January. "She's a genuine person, and [it was] so generous of her to take the time to write a song for me during the most difficult time of mine," Dion says. "People have a tendency to send me really sad songs, and we do want to sing the touching songs, but life is beautiful, and I really want to believe that René has a life after his life, that he doesn't suffer anymore."

Dion's last English-language album was 2013's Loved Me Back to Life, which featured collaborations with the likes of Ne-Yo and Sia. She's hoping to recruit a similar roster of artists for her next project. "I can't really talk about the other writers yet because nothing has been confirmed, but trust me, I hope that Sia and Ne-Yo and Bruno Mars and all the people that we love, oh my gosh, I hope they write for me," she says.
---
Source: Click Here
In case you haven't noticed, Céline Dion has usurped Céline the label as the fashion internet's favoritetopicofconversation over the past few weeks. After making the rounds at Paris Haute Couture Fashion Week in some truly knockout outfits, and proving that not everyone has to sit stone-face in the front row (you can whoop and thumbs-up and even cringe a little), she really won the industry over by emerging from her hotel in an $800 Vetements "Titanic" hoodie, a giant sartorial wink towards her new legion of fans.

As a Canadian and a longtime fan, this has been especially thrilling—and props to stylist Law Roach for catapulting the singer into the internet's collective consciousness—but I do have to wonder whether the people who are singing her praises now know that she's always been pretty damn cool? Since the early '90s, Céline has had a sense of style that's all her own—she's not afraid to put on something slinky, but can also rock a pair of trousers on the golf course; she'll do a sequin diva look to an awards show, but slip into a comfy sweater dress for rehearsals.
________________________________________________________________________
source: Click Here
Celine will sit down for an Interview and perform on Jimmy Fallon's show on July 21st a day before she takes the Today Show for their concert series. We are guessing she will talk life about her husband Rene Angelil and probably mention  to Jimmy she started working on an english album.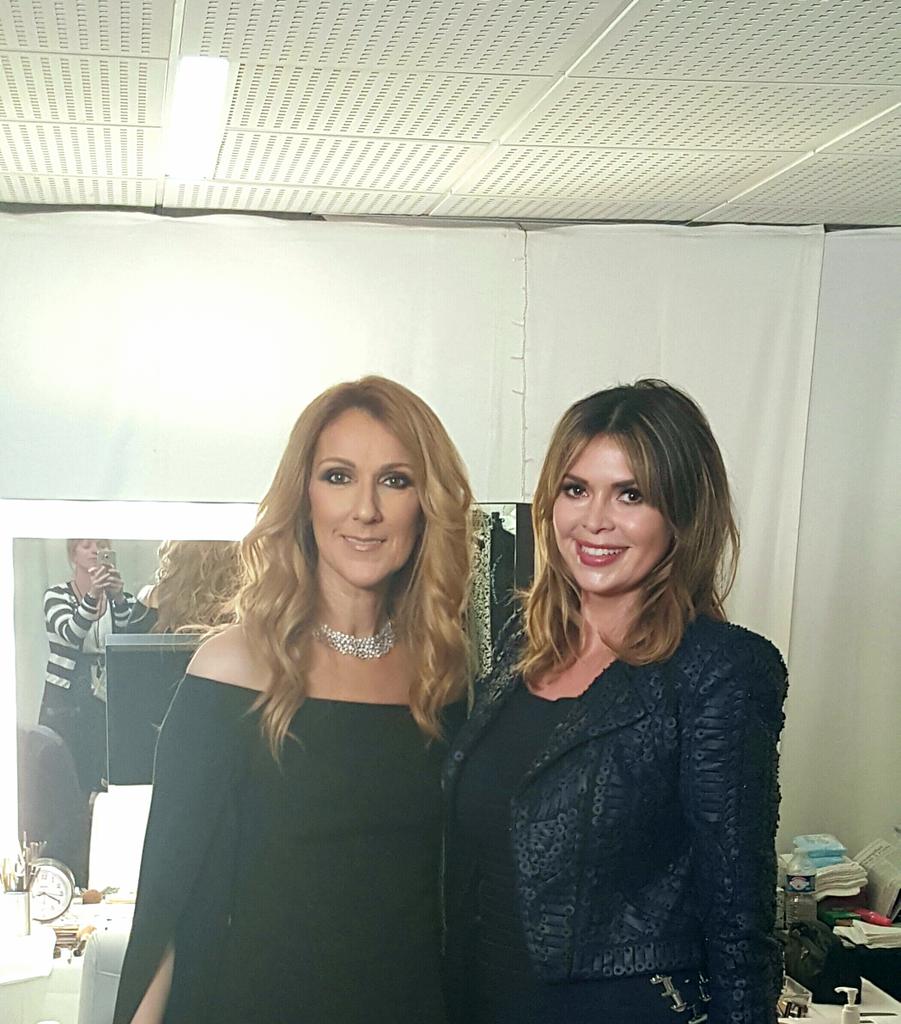 Celine Dion is making music after heartbreak.

The star spoke with ET at rehearsals for her Wednesday concert at the AccorHotels Arena in Paris, France, where she exclusively revealed that Pink wrote a song for her, in honor of her husband Rene Angelil, who died in January.

"I'm already starting to work on an English album," Dion told ET's Carly Steel. The 48-year-old singer is keeping most of the details of the project under wraps, but shared one special tease: "Pink wrote me a song."

"She is phenomenal. I love her for her talent, for her strength, for her focus, the person she is," Dion said of the 36-year-old singer. "At the [Billboard Music Awards] when I saw her, I said, 'For you to take the time to really write a song, to give me a tool, a piece of luggage to help me to move forward to walk to keep going…"

"It's called 'Recovering,'" the five-time GRAMMY winner revealed of the new song, adding that fans should "get ready."

Dion also opened up to ET about how support from her fans has helped her through the six months following her husband's death. Angelil died on Jan. 14 after battling throat cancer for several years. He was 73 years old.

"I think I do have a relationship with my fans that are [pushing] me [along]," Dion told ET. "They've been such supporters of my good days and my bad days."

"They are so considerate for my happiness and my sadness, my good and bad moments, and they are [always] supporting me," she added. "The fans are supporting not only my music, but who I am. I've been criticized for being an open book for so long, but it's paying off today because they know me well."

Watch the video below for more on how Dion's fans have helped her through her loss, and for even more of our exclusive interview with the French-Canadian singer, tune in to ET on Thursday. Check here for local listings.
---
View video: Click Here
Source: Click Here