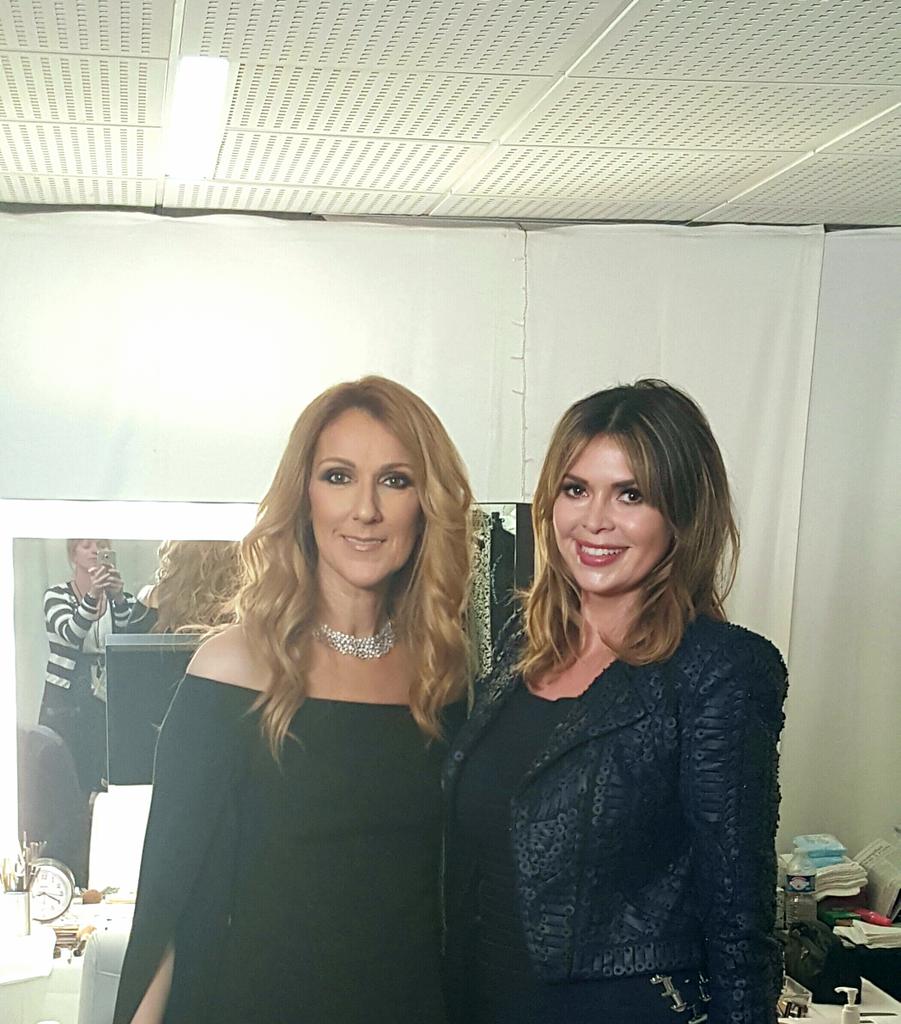 Celine Dion is making music after heartbreak.

The star spoke with ET at rehearsals for her Wednesday concert at the AccorHotels Arena in Paris, France, where she exclusively revealed that Pink wrote a song for her, in honor of her husband Rene Angelil, who died in January.

"I'm already starting to work on an English album," Dion told ET's Carly Steel. The 48-year-old singer is keeping most of the details of the project under wraps, but shared one special tease: "Pink wrote me a song."

"She is phenomenal. I love her for her talent, for her strength, for her focus, the person she is," Dion said of the 36-year-old singer. "At the [Billboard Music Awards] when I saw her, I said, 'For you to take the time to really write a song, to give me a tool, a piece of luggage to help me to move forward to walk to keep going…"

"It's called 'Recovering,'" the five-time GRAMMY winner revealed of the new song, adding that fans should "get ready."

Dion also opened up to ET about how support from her fans has helped her through the six months following her husband's death. Angelil died on Jan. 14 after battling throat cancer for several years. He was 73 years old.

"I think I do have a relationship with my fans that are [pushing] me [along]," Dion told ET. "They've been such supporters of my good days and my bad days."

"They are so considerate for my happiness and my sadness, my good and bad moments, and they are [always] supporting me," she added. "The fans are supporting not only my music, but who I am. I've been criticized for being an open book for so long, but it's paying off today because they know me well."

Watch the video below for more on how Dion's fans have helped her through her loss, and for even more of our exclusive interview with the French-Canadian singer, tune in to ET on Thursday. Check here for local listings.
---
View video: Click Here
Source: Click Here
Celine is greeted by fans and cameras as she exits her hotel in Paris ahead of her concert in Belgium. Celine blew kisses to the fans and waved at them to show that she is thankful for the love. I have added 40+ photos to the gallery check them out below. 🙂
View all: Click Here
At the 2016 BBMAs, Celine Dion, performed a powerful rendition of Queen's famous ballad, "The Show Must Go On," in honor of her late husband and manager,René Angelil. Now, less than a month post-performance, the singer is proving the sentiment true, ushering in a new era by announcing her plans to launch an all-encompassing lifestyle brand in partnership with the licensing firm Epic Rights, including home goods, active wear, beauty products, and more, all modeled after the singer's values: "family, music, entertainment and style."

"In today's world, you need a coordinating and consistent branded approach to everything," Dell Furano, CEO of Epic Rights, exclusively told Billboard. "On a global level, [artists] need to combine all areas — their music, performances, touring, website, social media — and launching a lifestyle brand was just a natural extension for Celine at this point in her career, particularly because it's all from her point of view."

While the program is still yet to be named (they're currently calling the brand "Celine Dion" as a placeholder), the initial stages of conceiving the multiple lines and rollout planning are done, purposely timed to take advantage of the International Licensing Show in Las Vegas, where Furano says they already have three days of meeting with mid-tier department stores booked for the brand.
Watch Celine Dion Reflect on Madonna's 'Incredible Job,' Her Own Tear-Jerking Performance at 2016 Billboard Music Awards
Unfortunately, you won't be able to get your hands on a Celine Dion product anytime this year. Epic Rights and Feeling Productions (Dion's Canadian-based production company) will be rolling out the goods in Fall 2017 over an 18-month period, starting with active wear, accessories, eyewear, beauty, and travel products and introducing new product lines over the following three years.

"This is a very organized, very well thought out program," Furano said. "And what makes this unique from [other artist programs] is simple: it is Celine herself."
---
Source: Click Here
Celine Dion broke down in tears after her son made a surprise appearance on stage to present her with the Icon award at Sunday night's Billboard Music Awards.

The 48-year-old made her first televised singing performance since the death of her husband, Rene Angelil, and her brother in January.

In a poignant move, she performed a cover of his favourite song, Queen's The Show Must Go On.

And moments later her eldest son René-Charles, 15, emerged on stage with her award. (She also has twins Nelson and Eddy, 5.)
She was overcome with emotion as the crowd gave her a standing ovation and she apologized to the audience for crying. Many audience members were also reduced to tears during the moment.

'I'm so sorry. I'm sorry for crying. I want to be so strong for my family and kids,' she told the crowd.

'I don't want to cry in front of you,' she then said to her son.

'Thank you very much.This is such a tremendous honor. Music has been my passion since before I can almost remember.'
She added that her late husband Rene Angelil will 'continue to watch over me from up above.'

After the ceremony, Celine reflected on the emotional moment.

'To try to perform that song without collapsing was big enough,' she told Entertainment Tonight.
'Even though I did not want to cry, he understands it's okay because it is therapeutic and you can't take so much pressure,' she continued.

'You can take so much strength and weight on your shoulders, but sometimes you can't control everything.'

Meanwhile, TMZ reported that CĂ©line is now the official administrator of RenĂ©'s vast estate.

Documents show that the 48-year-old has control over their two estates – which are up for sale – in Florida and Quebec, as well as others.

RenĂ© was also very generous to his children – of which he has three, from his marriage to CĂ©line as well as two previous ones – leaving homes to two of his children from his first marriage.

The will also shares that once the $45M home in Florida and $25M castle in Quebec are sold, $9M will go to a trust, most likely for his three children with CĂ©line.
Source: Click Here
Celine Dion was honored with the Icon Award at the Billboard Music Awards on Sunday and the indomitable songstress dominated the stage with a fierce performance of "The Show Must Go On."

The breathtaking number was Dion's first televised performance since the death of her husband, Rene Angelil, in January, and the 48-year-old diva didn't skip a beat when it came to proving she's still a vocal powerhouse.

WATCH: Celine Dion Talks Life Without Late Husban René Angélil

Donning a seductive, hip-hugging gold gown and joined by famed violinist Lindsey Stirling — as well as a full orchestra — Dion made the epic cover of the Queen hit all her own.

After the performance, Dion tried to hold back tears sweeping over her, which she managed to do until her son, Rene-Charles, came out on stage in a surprise appearance to present her with the Icon Award.

"I'm sorry for crying," Dion said to her son, holding his hand as tears rolled down her face. "I want to be so strong for my family and my kids and I didn't expect this. I didn't want to cry in front of you, you make me so happy."

WATCH: Celine Dion Pays Tribute to Late Husband in Triumphant Return to Las Vegas Stage

Turning to address the audience, the emotional Dion thanked her fans, gushing, "This is such a tremendous honor. You know Music has been my passion since I can almost remember. So many people have helped me get where I am today."

"I want to thank the fans for traveling through music with me in good and bad times," she continued, "My mom, who wrote my first song, my children, and most importantly my beloved husband whom I know will continue to watch over me from up above."

"Rene, this one's for you," Dion said, beginning to cry even harder and holding her trophy up victoriously. "The show must go on!"

WATCH: Celine Dion Keeps Memory of Rene Angelil Alive With Gold Cast of His Hand

Dion made her triumphant return to the Las Vegas stage in late February, after putting her Caesars Palace residency on hold to mourn the loss of her husband and her older brother, Daniel, who died of cancer two days after Angelil's death.

Last week, Dion sat down for her first televised interview since suffering her tragic losses.

"It's like I don't live with him physically, but I live with him inside of me," Dion told ABC News' Deborah Roberts. "I miss him when he was well. I miss him the way that I knew him, without the sickness." Check out the video below to hear more.
---
Source: Click Here
Celine Dion tearfully paid tribute to the fans who have helped her survive the heartbreaking loss of her husband, Rene Angelil, describing it as a 'personal show' on Tuesday.

In her first concert since her spine-tingling TV tell-all on Good Morning America, Celine laid her feelings bare in front of a 4,000-strong crowd when she returned to a new season of her residency at Caesar's Palace in Las Vegas.

'I would like to express my deep appreciation for the support and love you have given my whole family during the most difficult time of our lives,' she said.

DailyMail.com was at the concert as she declared her three sons, Rene-Charles, 15, and five-year-old twins Eddy and Nelson, were 'doing fine' without their beloved dad, who succumbed to a long battle with throat cancer in January, at the age of 73.

Celine, who was visibly emotional during several parts of the performance, added, 'We're all doing very well. The kids are fine, I'm fine. And I guess if I'm fine, they'll follow, and they'll be OK.'

During one of her songs, the 48-year-old cheekily lifted her dress to show off her toned pins and coquettishly whispered into the microphone, 'That was for Rene!'

It was Rene, who Celine first met when she was 12, who taught her to love.

'If I may tell you, growing up in my generation, "love" was not said very easily. We were kind of shy to say it. Rene on the other hand would say I love you every day to his mother, brother, children, fans, everybody,' she said.

'The first time I heard him say, "I love you, Mom," I was touched and I was stunned. I understood immediately that I was missing out on something so important, I infiltrated the word, "love" to my family, but you know, we could infect the world with these simple and yet so powerful words, that I say to you tonight, "I love you".'

Just hours later, the French-Canadian beauty returned to the stage, seemingly eager to please her sellout crowd.

Amid taking selfies with fans, she declared, 'I'm certainly extremely glad that you're all here tonight to sing, laugh, share memories, and even go to few places together if it's OK with you. So let's do this together, let's go all the way together.'

The crowd roared its appreciation.

Before introducing a slow ballad, Celine said, 'This song is very personal to me. By now you know everything about me. Every proud mother loves to show off, and this song is the right song to do so. So just imagine this screen is the biggest iPad you've ever seen in your life,' before flashing up touching pictures of her late husband and their gorgeous boys, much to the joy of her fans.

Celine changed her outfits five times during the 90-minute casino extravaganza at the famous Colosseum – which nets her $467,000 per show, making her the highest-earning performer in Vegas.
The crowd was delighted by her cover of Purple Rain by Prince, who passed away last month – especially when she insisted everyone lift their phones in tribute to the singer.

Celine signed an eight-year deal with Caesar's Palace, meaning she's contracted to the casino until 2019.

A tearful member of the audience told DailyMail.com, 'Celine was so emotionally spent after she sang her encore My Heart Will Go On. It was heartbreaking to see. Rene was clearly at the forefront of her mind.'
---
Source: Click Here
It's been four months since her husband of 21 years RenĂ© AngĂ©lil passed away from throat cancer at 73, and CĂ©line Dion and her children are beginning to feel better.

'When they took [his body] away, I chased the truck a little, like it was my kids going to school for the first day,' the 48-year-old pop diva revealed in the May 30 edition of People – on newsstands Friday.

'It's been a long, long journey. We were living in hope, knowing that there's no hope.'

When the five-time Grammy winner's 59-year-old brother Daniel died two days later from brain, throat, and tongue cancer – she thought it was 'perfect.'

'RenĂ© escorted my brother,' CĂ©line rationalized. 'He took him under his wings, and he said, "You know, I'll take good care of him."'

The Québec-born beauty told their 15-year-old son René-Charles Jr. immediately, but waited a few days to deliver the sad news to their five-year-old boys Eddy and Nelson.

Inspired by the 2009 Pixar movie Up, Dion threw a glitter and balloon-filled celebration to inform the fraternal twins that 'Papa' had 'gone up.'
'It's the thing I'm most proud of,' the widowed mother-of-three smiled.

'I did not want to relate the passing to doctors and have them be afraid.'

These days, CĂ©line's hockey-loving teenager is 'already talking about cars' while little Eddy and Nelson want to take gymnastics and piano.

'It's hard, but [my husband] left me with all of his strength,'Â admitted the French-Canadian chanteuse.
'I really, really want to prove to my kids their mother is strong.'

Dion will receive the Icon trophy at this Sunday's Billboard Music Awards where she'll perform a cover of Queen's The Show Must Go On in honor of Angélil.

The uplifting song was originally penned about frontman Freddie Mercury's desire to perform despite having AIDS, and he passed away at age 45 a month after its 1991 release.

'RenĂ© always insisted the show must go on,' CĂ©line – whose net worth is $630M – recalled.
'I'm 48 years old and I lost the love of my life. I miss him a lot from when he was great but not when he was suffering. I cannot be selfish. You have to let people go. I feel at peace.'

The Overjoyed songstress will next use her five-octave pipes at her Las Vegas residency – now in its 16th leg – at Caesars Palace's Colosseum on Wednesday.

And next Tuesday, Dion drops the first single, Encore un soir, off her 15th French-language studio album hitting shelves this fall.

The My Heart Will Go On hitmaker was famously only 12 years old when twice-divorced René declared her a star and became her mentor/manager.

In 1981, Angélil reportedly mortgaged his home to fund her first record La voix du bon Dieu and, by 1993, they went public with their romance.

He also left behind a son Patrick, 48 (with ex-wife #1 Denyse Duquette), and a son Jean-Pierre, 41, and daughter Anne-Marie, 38 (with ex-wife #2 Manon Kirouac).
---
Source: Click Here
'Every day I see René': Celine Dion reveals she finds comfort in her three children following the death of her husband
Celine Dion sees her husband in their three sons.

The Because You Loved Me singer was left devastated when her beloved spouse René Angélil died of cancer in January, but has been taking comfort from their children, René-Charles, 15, and five-year-old twins Nelson and Eddy.

In her first in-depth, on-camera chat since her spouse's death, Celine told TVA interviewer Marie-Claude Barrette: 'Every day, I look at René-Charles, Nelson and Eddy and I see René.'

And the 48-year-old singer impressed the TVA interviewer with her 'unexpected strength' as they chatted following the star's heartbreaking personal loss.

'I expected to encounter a weakened Celine, and I met a woman of unexpected strength. I feel honoured to have had her first interview since the death of René,' the interviewer said.

The interview was taped last Thursday at the Colosseum at Caesars Palace, where the singer has her Las Vegas residency, and is set to air on the Montreal network on May 18.

On the same day, ABC News will air a 'compelling' interview with the My Heart Will Go On singer, who spoke at length with their correspondent Deborah Roberts.

A number of shows on the channel, including Good Morning America and Nightline, will broadcast the chat.
Following the death of her husband, and also her brother Daniel Dion – who lost his own battle from cancer just a few days later – Celine took a break from her residency and on her return in February, she paid tribute to her late spouse.

She told her audience: 'Through my life I only had eyes for my husband, who sat out here night after night.

'People thought that I was looking at him but I didn't need to because every time I closed my eyes, I felt RenĂ© on stage with me – whether he was seated in his seat right there, in the balcony, backstage, or at home with the kids.

'He's always been on stage with me and nothing will ever change that,' she said, adding:Â 'I might not hear his voice yet, but I talk to him, I think of him all the time. I feel and I know he hears me, one way or another.'

'I know he will give me a sign for his approval or not. And now I can feel that he is telling me to zip it and start singing,' she concluded.

Having made her emotional return to her Caesars Palace show, Celine has performances in May and June, and September through November.
---
Source: Click Here