She made an emotional return to the stage in the city two weeks ago, following the death of her husband.

And with her final Paris dates looming, Celine Dion made sure her devoted and adoring fans in the City of Light were her main priority as she stepped outside her hotel on Thursday.

Leaving her hotel and heading out to meet the crowd awaiting her, the 48-year-old singer looked to be in high spirits, greeting the throng with a smile and a wave.

Sporting a casually chic ensemble, the Canadian icon looked to be in the mood to relax before her concert later on in the day.
And showing that she's truly a woman dedicated to her fans, Celine made her way over to the crowds with a smile on her face.

Posing for selfies and signing autographs, the global chart-topper made sure she met as many of her fans as possible, before heading off – presumably to prep for her gig.

Teaming white tee with a pair of distressed denim jeans, the My Heart Will Go On singer rocked a timeless look.

Adding a snazzy twist to her look, Celine wore a sleeveless palm-print overcoat over the top of the tee.

Rounding her look off with a dash of high-fashion styling, the chart-topper wore a pair of slate suede stilettos.
Accessorising her look, the mother-of-three added a grey Louis Vuitton handbag to her look, she also jazzed up her look with a bright silk scarf and a pair of large shades.

Wearing her dark locks tied back in a ponytail, the striking singer let her pretty features come to the fore.

Celine's appearance came ahead of her gig at the AccorHotels Arena the same day, while Sturday July 9 will see her take to the arena's stage one last time.
---
Source: Click Here
On July 7th before heading off her for 8th Paris Show Celine stopped to sign for the fans who awaited to see her and talk to her for a sec. Celine plays her 8th show at the AccorHotels Arena tonight in Paris with Saturday July 9th being her last Paris show then she heads off to Canada for a series of concerts.
View all: Click Here
Celine took to the stage on Wednesday July 6th to perform for once another sold out crowd in Paris France at the AccorHotels Arena. Celine proved to all why she's one of the greatest female voices of all time by belting out old and new classics. Check out some photos below. These are instagram shots once I have professional photos I'll add them to the gallery.
View all: Click Here
Before Celine took off to get ready for her 7th Show at the AccorHotels Arena she greeted fans and a cute baby outside her hotel. 🙂 
View all: Click Here
From turning up to the Oscars in a backwards suit to some rather frumpy stage dresses, Celine Dion, 48, has always been more famous for her fabulous voice than her sense of style.

But that all changed this week when the star took Paris Haute Couture Fashion Week by storm in a series of sleek and chic outfits by top designers including Fendi and Balenciaga.

And it's all thanks to her new stylist Law Roach who the star has been working with for the past three weeks to hone in on the hottest fashions of the moment.

'Céline is very into fashion, what's in fashion, what's going on, and who's relevant,' Roach told Vogue. 'She really knows fashion. She looks at Vogue, so she knows what's current and she also knows exactly what she likes – and she's fearless.'

Roach has worked with Disney star and singer Zendaya since she was 14, as well as styling Ruby Rose and Ariana Grande, and at first was surprised to get a call from the Canadian megastar.

'When they told me that Céline Dion wanted to meet with me I was literally speechless,'  he admitted.

'But in a way Céline and Zendaya are similar. They're both tall, and have great bodies, and appreciate and enjoy fashion. It just makes it great to work with each of them.'
This week heralded Celine's first appearance on the front row since 2007.

On Monday she attended the Giambattista Valli Couture show in the designer's own creations.

The Think Twice hitmaker oozed glamour in an elegant floor-length dress, which flowed around her feet in pools of chiffon material.

The top half of the singer's dress included pretty sheer panelling across the bust and cinched in her tiny waist with a thin black belt.
And she rounded off her monochrome ensemble with a long-line black and white coat that featured a clashing flower design.

However, Celine couldn't resist adding a pop of colour to her style with a baby pink patent handbag that she held proudly by her side.

The Power Of Love singer is in the French capital as her European tour continues, and was spotted leaving her hotel last week in a diamond patterned Fendi coat, toting a purple bag featuring the brand's sought after pom pom charms.
She teamed the colourful cover up with skinny jeans and nude suede heels and looked every inch the mega star in hexagonal framed sun glasses.

For her outing to the Dior presentation, she donned an all-black ensemble that included fitted leather trousers and vertiginous strappy heels.

She teamed the ensemble with a black peplum blazer by Dior.
From all black, she went to head-to-toe grey, in a full length coat with a sweeping train by Balmain as she headed to her concert at the weekend.

The star donned a pair of suede thigh high boots whilst she accessorised with a chic trilby hat.

While some singers might head to work in comfortable clothing ahead of changing into their stage costumes, Celine turned every hotel departure into a fashion parade.

On eye catching ensemble included an acid green Balenciaga dress, a black Saint Laurent jacket, over-the-knee boots by Le Silla boots and a Givenchy bag.

On another occasion the star looked like she could be taking inspiration from Kim Kardashian in a khaki jumpsuit and leather jacket slung around her shoulders.

Celine's makeover comes amid news she's planning to launch her own fashion, beauty and homeware collection.

She's endured a rough start to the year, after losing her beloved husband René Angelil and brother Daniel within days of each other.

She told People: 'I really, really want to prove to my kids their mother is strong. René always insisted the show must go on. You know what, I'm 48 years old and I lost the love of my life.

'I miss him a lot from when he was great but not when he was suffering. I cannot be selfish. You have to let people go. I feel at peace.'
---
Source: Click  Here
On the 4th of July Celine attended 2 Paris Fashion Shows one being Giambattista and we would like to point out she looked stunning. I have added 70+ photos to the gallery. Yes I know I probably forgot to delete some duplicates so don't point it out but I did delete many. I'm not sure why they uploaded double.
View all: Click Here
I have added 50+ photos to the gallery of Celine attending Christian Dior's Fashion Show in Paris check them out below. 🙂
"Celine Dion arrives at the Christian Dior Haute Couture Fall/Winter 2016-2017 show as part of Paris Fashion Week on July 4, 2016 in Paris, France."
View all: Click Here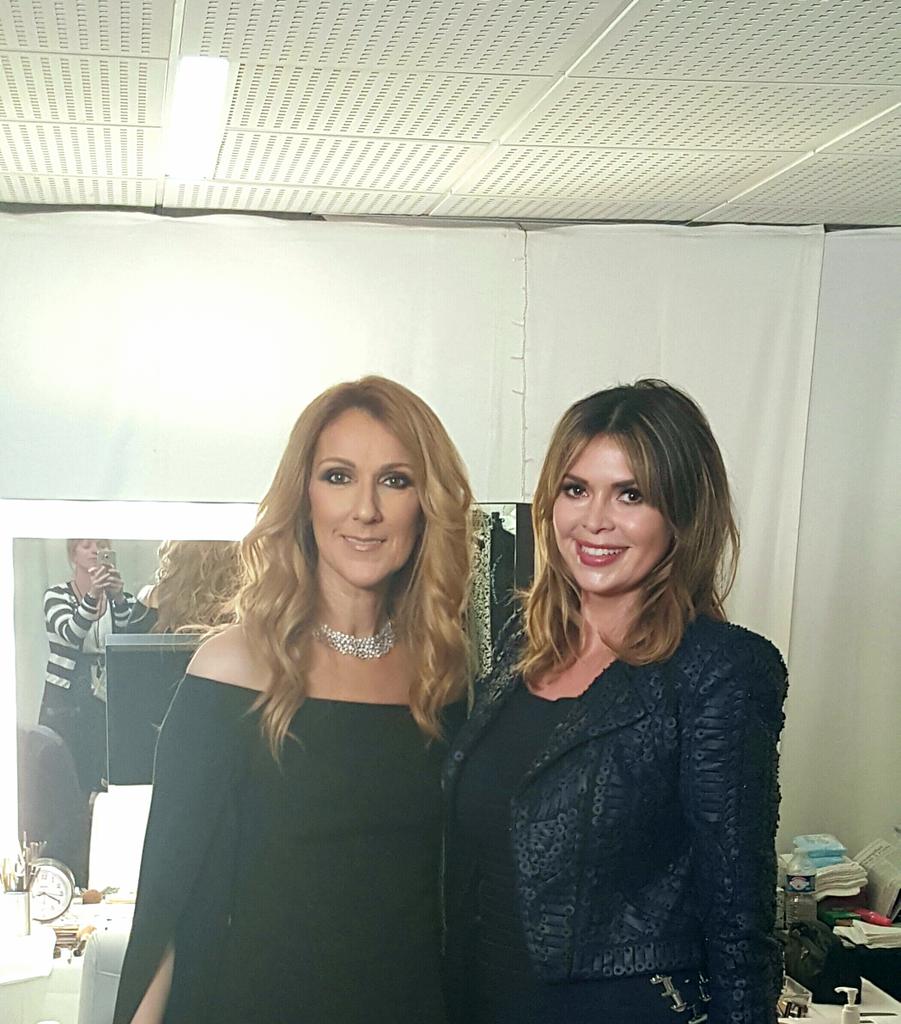 Celine Dion is making music after heartbreak.

The star spoke with ET at rehearsals for her Wednesday concert at the AccorHotels Arena in Paris, France, where she exclusively revealed that Pink wrote a song for her, in honor of her husband Rene Angelil, who died in January.

"I'm already starting to work on an English album," Dion told ET's Carly Steel. The 48-year-old singer is keeping most of the details of the project under wraps, but shared one special tease: "Pink wrote me a song."

"She is phenomenal. I love her for her talent, for her strength, for her focus, the person she is," Dion said of the 36-year-old singer. "At the [Billboard Music Awards] when I saw her, I said, 'For you to take the time to really write a song, to give me a tool, a piece of luggage to help me to move forward to walk to keep going…"

"It's called 'Recovering,'" the five-time GRAMMY winner revealed of the new song, adding that fans should "get ready."

Dion also opened up to ET about how support from her fans has helped her through the six months following her husband's death. Angelil died on Jan. 14 after battling throat cancer for several years. He was 73 years old.

"I think I do have a relationship with my fans that are [pushing] me [along]," Dion told ET. "They've been such supporters of my good days and my bad days."

"They are so considerate for my happiness and my sadness, my good and bad moments, and they are [always] supporting me," she added. "The fans are supporting not only my music, but who I am. I've been criticized for being an open book for so long, but it's paying off today because they know me well."

Watch the video below for more on how Dion's fans have helped her through her loss, and for even more of our exclusive interview with the French-Canadian singer, tune in to ET on Thursday. Check here for local listings.
---
View video: Click Here
Source: Click Here