Celine sat down for an interview with CBS Sunday Morning to talk performing  and she shows off her goofy side. You'll also catch snippets of her performances throughout the video. We also get to see some behind the scenes check out the video.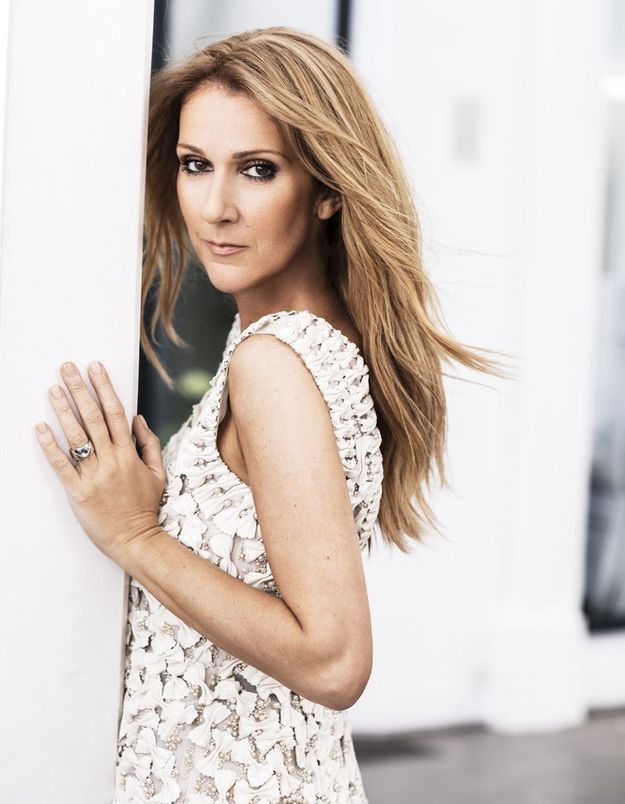 (I translated via google translate to English)
Trendier than ever, Celine Dion returns in mourning, but not in tears, with a French album will be a hit. She talks about her love for her son and for music, which it draws its strength. Phenomenal.
It hardly makes most special. All she sings becomes tube: just out, the title "Another night" pranced topped the charts and his album to come, we could listen to exclusive, is a collection of future hits. capital issue, it has risen this year, just behind Madonna and Beyoncé front, on the podium of the stars of the wealthiest song. And when she arrives this Friday of June at the photo shoot, it is with a court of ten people: managers, stylist, assistants, friends who the convent eyes. A diva, Celine Dion? Obviously, not least, even in small groups, by his innate sense of the show: between two fittings, she vocalizes powerfully on "Chandelier" – Sia, she loves, runs in the background – while fluttering on heels 12 cm. A diva, yes, but nice trend, hugging each other and thanking and to outdo.A few days earlier, had made the trip to Las Vegas to smell a little of his universe. And he had to see in this enormous Colosseum, kitsch coliseum of 4,300 seats nestled at Caesars Palace, unleash storms of tears and cheers of "All by Myself" and almost levitating, ringed fountains, on the anthem of "Titanic." An American star! Later, it's Bercy she carried for nine evenings least show off but not least superstar. Celine Dion is still the fate of Quebec modest girl, revealed and overexposed at the age of 12, who has built an empire with René, her husband-manager, who died in January as a result of a long cancer. Unconventional, yes, but also normal, touching positive when she pours on maternal love and life continues. Meeting with optimism monument.
ELLE . Your new album, "Another night," released at the end of the month. After a difficult start to the year, how was your return to the French song?
Celine Dion . Before my husband crosses the bridge – I use that term because I do not want to think he's gone – he had launched many projects for me: my back on stage in Las Vegas, my concerts in Paris this album in french, knowing he would not be there to see it succeed. So to build it, I had extended conversations with Francis Cabrel, Grand Corps Malade and others with whom I was talking about serious things, but also rain, the weather, my children … I did not want us to write me a disc where one crying from beginning to end.
ELLE . It seems that René loved the song "One more night" written by Jean-Jacques Goldman …
Celine Dion . He loved! "Jean-Jacques cooked me a nice start," he said, as he was suffering for three years … Many times, Jean-Jacques had yet repeated, "I already told you all written! "But I wanted to still he composed a song about this difficult time we live. An important song, but sad, that would help us confront it. Of that I am infinitely grateful to him.
ELLE . The single "One more night" at the top of sales, Bercy sold out … Are you surprised this phenomenal and lasting infatuation that you elicit in France?
Celine Dion. Surprise, no. Moved, yes. For the report that I have with France far beyond my songs.Here one loves me beyond my music beyond what I give on stage. I was adopted. What more…

ELLE . Since the departure of René, who managed your career, you feel invested with new responsibilities?
Celine Dion. While always asking me, while including me in all decisions, René had control of my career. When I proposed too many things at once, his eyes seemed to say, it is quiet. With my new manager, Aldo Giampaolo, designated by Rene, it's different. He does everything for the wheel, time stopped, recovers to turn, but I feel he needs to hear more often my opinion.
ELLE . It's exhilarating to express yourself further?
Celine Dion . I like it, yes! I dare to share with all my ideas of Aldo, wildest like the most mundane. And with experience, I have nothing to prove, neither my family nor my husband nor the record industry … Neither myself. Now I exercise my profession just for fun, and it excites me even more.
ELLE . You have often said that Rene would be the only man in your life. Falling in love again, you can think about it?
Celine Dion . I feel that my husband makes me still, he wants my happiness. However, having another man in my life, in five years, ten years, I do not think for a second. Men, for the moment, I have three at home!

ELLE . Your eldest son, René-Charles, he plays precisely the "man of the house"?
Celine Dion. That I do not particularly want to! Nevertheless, it is a bit the flagship of the family. He moved closer to her little brothers, though I asked. He approached me, too.Without playing mothers who idealize their son, I'm proud of him. Proud of myself, to have preserved. He is a good student, practice full of sports, is buddies that I gladly welcome home: I like to know who his friends are, hear them talking together, and access to some privacy.
ELLE . Is it a little rebellious like some teens?
Celine Dion. There's nothing about him that shocks me. Certainly, at 15 and a half, like all boys his age, he does not hold up. " OK ! Hi, I'm leaving! "Me-he says when he comes out. I replied: "Hop, hop, hop, come and kiss me! "Sometimes I remember a little to be admired all a bed of lavender sun.Obviously, he does not care about me! But whatever. I want my children to look around, that's how we advance in life.
ELLE . With three children, your tour, new album, your shows in Las Vegas, you are very busy. How do you surround?
Celine Dion . When it comes to choosing my entourage, I am very demanding. It was first my sister Linda, godmother of my children, which is like a second mother. I also around me two trusted people who care for my twins because they are phenomena. Put them in front of the TV and, suddenly, one begins to dance like Michael Jackson, the other to sing like James Brown. Permanently, they catch taekwondo and roulades. Real Nadia Comaneci! But I know that when I'm on stage, I do not have to worry about them. They are protected and grow in happiness.
ELLE . Not having a girl, do you miss?
Celine Dion . I must admit that I thought very often. But who knows, one day maybe, I shall adopt a girl … I do not know the future. I like to think that my life is an open book which remains full of pages to write.
ELLE . You started your career as a singer in 12 years. Did you have at that age, the sense of choosing your life?
Celine Dion . I had rather the feeling of being driven by fate. It was impossible to swim against the current in this relentless wave that carried me! I threw myself in this business as in a swirling water. But little girl already, I loved to sing standing on the family table. Being the youngest in a family of fourteen children, the baby of the family, we always put me on a pedestal, so I did not feel myself to beat me up.
ELLE . In your early days, you do not find you attractive. Does today you finally like?
Celine Dion . A lot ! And I do not say this with frills, just out of respect for myself.When I started my career in France with Vanessa Paradis cartonnait "Joe le taxi".Beside her, me, the girl with dental problems, a little skinny, who was not wearing jeans in the right way, I was not feeling the best … But I wanted that loves me! In time, I accepted. The success I valued. I turned without using surgery, but arranging my teeth.Today, yes, I'm really good about myself.
ELLE . In 1993, you were singing "Love can move mountains" to Bill Clinton's inauguration. If Hillary is elected, would you sing for her?
Celine Dion . Oh, I love to sing for everyone! I've never policy scrum and I did not follow the US campaign. But beware, I'm not naive service that knows nothing of the world! No matter who is elected me: I want to feel that things are moving. For me, a president, man or woman, it's like a mother: your sick child in the night, you will never say, "Hey, it's 3 am, vomited why you like that? "No, you react immediately.
ELLE . You who live for fourteen years in Las Vegas, do not you like living in a Disneyland for adults?
Celine Dion . Your point of view! I prefer to look at the city as this little diamond in the 60s, shone a thousand lights in the desert. Of course, there were already players, but also dancers, artists. Frank Sinatra, Elvis lived and sang there.Vegas is also the place where I am blown me on stage: the Colosseum theater was still built for my show! At the time, some said: "The" Titanic "will sink again," "His career is over" … I will yet make my thousandth time on October 7: not bad for a wreck!Basically, I like in this city where, as everywhere, we built schools, churches, roads, where people work and have dreams …
ELLE . And you, dreams, you have it?
Celine Dion . Full! I want to see my children succeed and be happy, of course. I also make films: it directs me, which makes me work!I do not constantly be told: "You're supeeer! "I want to impress me, move me. And I want to believe that in my next days old, I could be a good actress.
---
Source: Click Here
Celine gave a press conference after a emotional but uplifting first show in front of her hometown crowd in Montreal, Canada. This was a first for the Canadian singer since losing her husband Rene Angelil. She talked for about 90 minutes to the crowd in her native language in French. 
View all: Click Here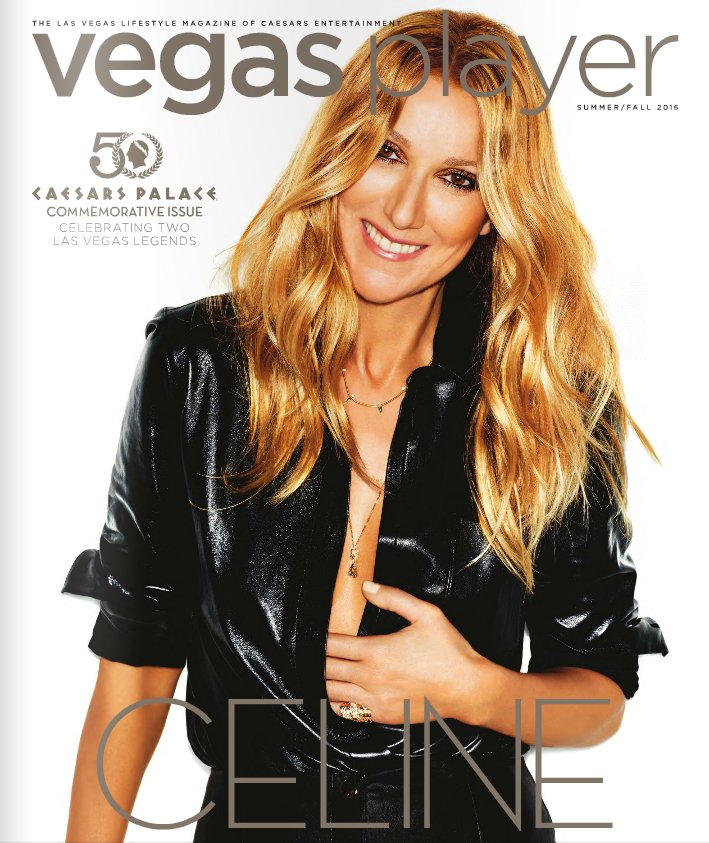 Sometimes, it 's simply referred to as the "THE HOUSE THAT CELINE BUILT." And rightfully so. The Colosseum at Caesars Palace opened in 2003 with Celine Dion as its first resident performer.
Thirteen years, and soon-to-be 1,000 shows later, she's still packing the house, as fans from across the globe come to see her perform in the 4,298-seat theater that was originally constructed for her show, A New Day….
Caesars Palace is celebrating its 50th anniversary this year. You've been there since 2003. What's it like performing there after all these years?

I remember vividly arriving in this beautiful new theater in 2003. It was a rich and wonderful experience indeed. And definitely A New Day… for me!
What's it like being part of the Caesars family?
Caesars is truly part of my professional family. And, as it goes with family relations, it's dear to my heart.
You're approaching your 1,000th performance at The Colosseum. How does that feel?
I never thought we would reach this milestone. I truly enjoy being onstage. For me, performing is about having a good time with my fans, the musicians and crew.
Do you remember your first performance at The Colosseum? Prior to that, did you perform at Circus Maximus?
Yes, I performed at Circus Maximus back in 1996. It turned out to be a good omen and the beginning of a wonderful experience.
The Center for Business and Economic Development has said your influence in Las Vegas is bigger than that of Elvis, Sinatra and Liberace combined! What's your reaction?
I'm very honored and proud to be a part of this community. To have the privilege to do what I love most in an ideal environment, surrounded by people who love me enough to travel here, thrusting their affection and support, show after show.
So many entertainers have followed your lead. Cher, Elton John, Rod Stewart, Shania Twain, Britney Spears and others. Why do you think stars are attracted to today's Las Vegas?
Las Vegas has become the entertainment capital of the world. It is quite normal that artists wish to come here to perform.
Do you have any superstitions preparing for a show?
We had Rene's hand [cast] in bronze many years ago. And today, it has become a tradition to touch it before going onstage.
You gave a very emotional performance when you returned to the stage on February 23. Was it difficult? What was going through your mind?
It was a very emotional night. I had to sing for the first time without [Rene's] presence—my mentor, my love. But I knew he was watching over me.
How many more years do you see yourself performing?
I never think about that. I hope to sing as long as I breathe. I have been singing all my life, since childhood, and I don't see myself retiring or not performing. It's what I love to do.
You often joke about singing "My Heart Will Go On." What are your feelings toward the song today?
It's a classic and people want to hear it. I was very fortunate to have James Horner and Will Jennings give me the opportunity to sing their masterpiece.
The twins are turning six this year. Do you feel they're growing up fast? Yes! I believe that all parents think the same.
And Rene-Charles is 15. Are you ready for the teenage years? Is any parent ready for that? Really? But Rene-Charles is a very good son. So like all parents, I always hope for the best. But let's say, we're off to a very good start!
---
Source: Click Here
Celine Dion pioneered the modern Las Vegas residency, but you won't find her anywhere near Caesars Palace this summer. The iconic diva just completed a string of dates in Antwerp and Paris, and she'll warm up for next month's Canadian tour leg with a TODAY show concert on July 22.
With two new albums in the works and a new leg of her Vegas show beginning in September, it's been a busy year for the singer—and a trying one. Performing nightly in front of her adoring fans, Dion says, has helped her cope with the losses of her husband and longtime manager, René Angélil, and her older brother Daniel, who both died within a few days of each other in January.
"They sing their support, they give me their tears, their laughter," she tells EW. "I'm in the car after the show trying to catch my breath, and the first thing that comes to my mind, is 'René would be freaking out.'" Below, Dion explains how she's coping, what to expect from her new music, and while she'll never get tired of singing "My Heart Will Go On."
ENTERTAINMENT WEEKLY: You've had a rough year. How are you doing?
CELINE DION: I am more than holding up, I have to tell you. My children, my family, my fans night after night—it feels like it's not just one thing that's helping me. My children adapted themselves so well, so that helps me as a mom to really cope with that tremendous loss. But I feel that he is inside of us, helping us, [saying] "Go for it! I'm here, the kids are safe—have your passion, have a good time."

What has the support from your fans been like?
Every day I go out and there are hundreds of people giving me paintings of [René Angélil], letters for me, books to soothe me, products for me to take time for myself, candies for the kids, coloring books. It's like, "Wow, this is beyond music." This is a relationship that I've been having with my fans for more than 30 years. They are helping me go through what millions and millions of people are going through every day. It makes you realize that life is beautiful, and you have to live for today. Today it's raining in Paris, and it doesn't make a difference for me anyway. Sunny, rainy, cold or hot, it's how you feel inside and the passion that you share.

You've been taking a break from your Vegas residency to perform shows Europe and Canada. How has this summer tour been?
I don't want to sound pretentious saying this, but there's a love affair. They sing their support, they give me their tears, their laughter. They applaud, they jump, they dance with me. They sing for me and with me. They put me on a big high. I'm in the car after the show trying to catch my breath, and the first thing that comes to my mind, is "René would be freaking out."

How do these audiences compare to the crowds you see in Vegas?
Here, they sing with you. If you forget the words, don't worry—they know the songs better than you do. They give you a show as well. In Vegas, it's a different environment. You're not in arena, you're in a beautiful theater with velvet-coated seats. It makes you to want to have a night out, have a nice dinner, go shopping a little bit, buy a nice dress. I can't compare a pair of jeans to a nightgown, but I can't live without either of them.

You kick off a new leg of your current residency show, Celine, in September. Will you update the show as you work on new material?
I don't know when, but we will for sure. I just finished a French album—only one song ["Encore un soir"] is out now—that's going to come out at the end of August. Then during my next little break, of course I will work on an English album.

On your last English-language album, you worked with big names like Sia and Ne-Yo. Are there other artists you're impressed with right now in pop?
I can't really talk about the other writers yet because nothing has been confirmed, but trust me, I hope that Sia and Ne-Yo and Bruno Mars and all the people that we love, oh my gosh, I hope they write for me. Are you kidding me? I can just give you a little hint: Pink wrote me a song that I'm freaking out about.

That's exciting!
You cannot be more excited than me, I'll tell you. I am thrilled not only because I am a fan, but because I know her personally and have met her a few times. She's a genuine person and [it was] so generous of her to take the time to write a song for me during the most difficult time of mine. People have a tendency to send me really sad songs, and we do want to sing the touching songs, but life is beautiful, and I really want to believe that René has a life after his life, that he doesn't suffer anymore.

Your Las Vegas residencies pioneered a new kind of concert spectacle: You've sang while water fell from the ceiling, performed with holograms of yourself and commanded a small army of dancers. Is there a particular element that wowed you the most?
To be honest with you, it's not necessarily what's going on stage while I'm performing. It's the time I've been spending in Las Vegas. I thought I was going to do two months, two years, three years. My son R.C., who's 15 and a half, we celebrated his second birthday there and I'mstill performing in Las Vegas. So yes, I'm happy about the waterfalls and my musicians and the lighting and all of the above, but what amazes me is that I'm still there. When I did my first show [A New Day…, which ran from 2003-2007] everybody thought I was going to end my career there. The Titanic was going to sink a second time. But we focused, we believed and I'm thrilled to still be there because it gives me the best of both worlds: singing and being mommy.

Have the meanings of your biggest hits changed as you've been singing them for decades now?
Who wants to sing the same song 6,000 times? No one! But I'm stuck with those songs in a good way. For one second through my mind it's like, "Oh gosh, not that song again." But then I look at them and forget that it's been 25 years. They make it the first time every night. Don't you think I have a good problem?
The TODAY show is teaming up with EW for a backstage pass to the "Citi Concert Series on TODAY" with exclusive Q&A's in the magazine and on EW.com. Tune in to Dion's performance July 22 on NBC.
---
Source: Click Here
Below are some very touching and emotional interviews from various shows where Celine talks about her performance, her son Rene-Charles and more.
Billboard
ExtraTV
Entertainment Tonight 
People Magazine
ENews 
Celine sat down for an interview to discuss how Rene prepared her for life without him, his final moments and so much more watch the candid interview below. Check out 400+  screencaptures  I added below.
View all: Click Here
The day the interview aired Good Morning America gave a sneak peek before it aired that night on Nightline. Below is the 5+ minute interview shown on GMA. Nightline showed the same interview just added a few more minutes.
Nightline