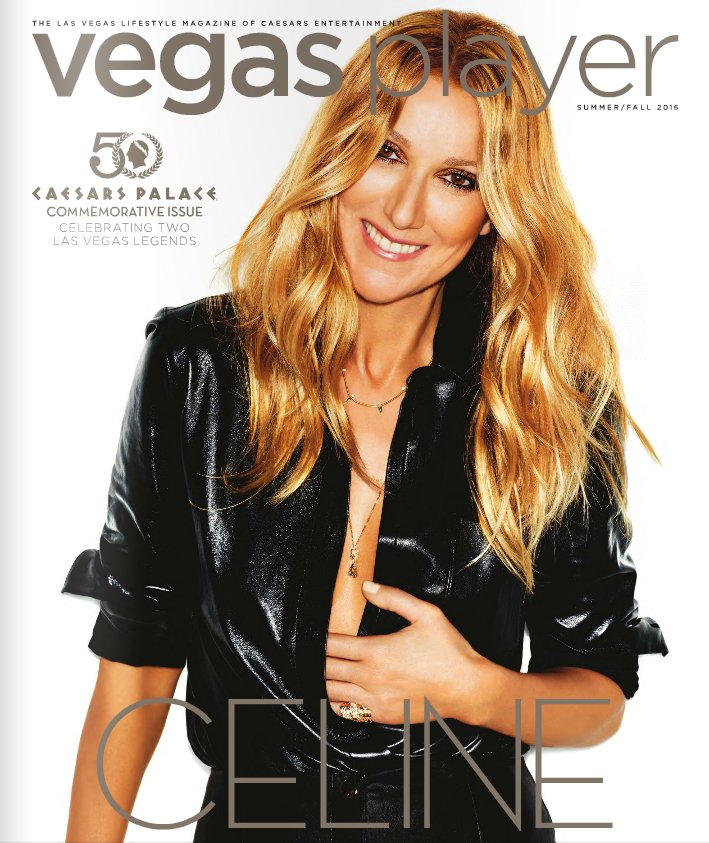 Sometimes, it 's simply referred to as the "THE HOUSE THAT CELINE BUILT." And rightfully so. The Colosseum at Caesars Palace opened in 2003 with Celine Dion as its first resident performer.
Thirteen years, and soon-to-be 1,000 shows later, she's still packing the house, as fans from across the globe come to see her perform in the 4,298-seat theater that was originally constructed for her show, A New Day….
Caesars Palace is celebrating its 50th anniversary this year. You've been there since 2003. What's it like performing there after all these years?

I remember vividly arriving in this beautiful new theater in 2003. It was a rich and wonderful experience indeed. And definitely A New Day… for me!
What's it like being part of the Caesars family?
Caesars is truly part of my professional family. And, as it goes with family relations, it's dear to my heart.
You're approaching your 1,000th performance at The Colosseum. How does that feel?
I never thought we would reach this milestone. I truly enjoy being onstage. For me, performing is about having a good time with my fans, the musicians and crew.
Do you remember your first performance at The Colosseum? Prior to that, did you perform at Circus Maximus?
Yes, I performed at Circus Maximus back in 1996. It turned out to be a good omen and the beginning of a wonderful experience.
The Center for Business and Economic Development has said your influence in Las Vegas is bigger than that of Elvis, Sinatra and Liberace combined! What's your reaction?
I'm very honored and proud to be a part of this community. To have the privilege to do what I love most in an ideal environment, surrounded by people who love me enough to travel here, thrusting their affection and support, show after show.
So many entertainers have followed your lead. Cher, Elton John, Rod Stewart, Shania Twain, Britney Spears and others. Why do you think stars are attracted to today's Las Vegas?
Las Vegas has become the entertainment capital of the world. It is quite normal that artists wish to come here to perform.
Do you have any superstitions preparing for a show?
We had Rene's hand [cast] in bronze many years ago. And today, it has become a tradition to touch it before going onstage.
You gave a very emotional performance when you returned to the stage on February 23. Was it difficult? What was going through your mind?
It was a very emotional night. I had to sing for the first time without [Rene's] presence—my mentor, my love. But I knew he was watching over me.
How many more years do you see yourself performing?
I never think about that. I hope to sing as long as I breathe. I have been singing all my life, since childhood, and I don't see myself retiring or not performing. It's what I love to do.
You often joke about singing "My Heart Will Go On." What are your feelings toward the song today?
It's a classic and people want to hear it. I was very fortunate to have James Horner and Will Jennings give me the opportunity to sing their masterpiece.
The twins are turning six this year. Do you feel they're growing up fast? Yes! I believe that all parents think the same.
And Rene-Charles is 15. Are you ready for the teenage years? Is any parent ready for that? Really? But Rene-Charles is a very good son. So like all parents, I always hope for the best. But let's say, we're off to a very good start!
---
Source: Click Here